How to Create an eCommerce Website in under 10 minutes (Tutorial With Pictures)
In this tutorial I am going to show you how to create an eCommerce store from scratch in under 10 minutes in 5 easy steps – no development or design skills needed. (We charge up to 1500 – 12000 to do this for our customers depending on the amount of time involved in setting things up and getting the site looking slick.)
First, we need to look into the importance of choosing the right platform. If you are ready to start building then jump down to the section titled GETTING STARTED
Why does your eCommerce platform matter?
If you are going to invest your time or money in building an eCommerce business you want to invest in a platform (the technology behind the website) that stays up to date and lets you market effectively so you can grow sales.
Where do eCommerce Businesses get stuck?
One of the biggest factors holding online businesses back is set up costs. Often people will build the site, make it live… then it just sits there, collecting dust and there is no budget to turn on traffic and tweak the site to get it converting more traffic into customers.
Don't blow your entire budget on the build.
If you are just starting to test the waters of eCommerce and find yourself with plenty of time on your hands but not a huge amount of start-up funding then building your own website is probably your best option. (to learn how to do this keep reading below).
Don't have time to build it yourself?
If you are not sure how to customise your template or create a design that fits with your branding Or if you are busy working on other tasks then we can design the site for you CLICK HERE TO LEARN MORE ABOUT SHOPIFY WEBSITE DESIGN & DEVELOPMENT.
Want to build your own website? Keep Reading.
The biggest frustrations we see business owners have with their website is not being able to making changes to basic stuff themself. So all of their marketing budget gets gobbled up by updating technology, adding pages, turning on new functionality…. Instead of driving traffic and finding smarter ways to convert that traffic into customers.
Choosing the right platform can save you thousands of dollars in development.
We love SHOPIFY as an eCommerce platform as it makes life easy for a business owner.
You have the ability to add blog posts, graphics, pages, collections of products and products easily (without the help of a developer).
Thousands of people use this platform so when they make updates there is not a huge cost to the user.
You pay month to month so there is no huge cost to begin (just your time).
They are constantly tweaking and improving the platform so it has all the functionality you need to find new customers
It just makes eCommerce easy.
You don't need design skills – You can try on beautiful templates for under $300
 GETTING STARTED – Try it free for 14 days
1. Head to SHOPIFY now using this link  SHOPIFY to try it free for 14 days and give it a test drive
(Just to let you know this is an affiliate link where I get paid a small fee from shopify for sending them new customers. This is just a bonus for me taking the time to write this blog post. I genuinely think this is a fantastic platform and recommend it to my clients and friends because of its functionality and ease of use.)
Enter your email address into the box and press the "GET STARTED" Button

Fill out a password and pick a store name (I like to snap a photo of these on my phone so I do not forget them)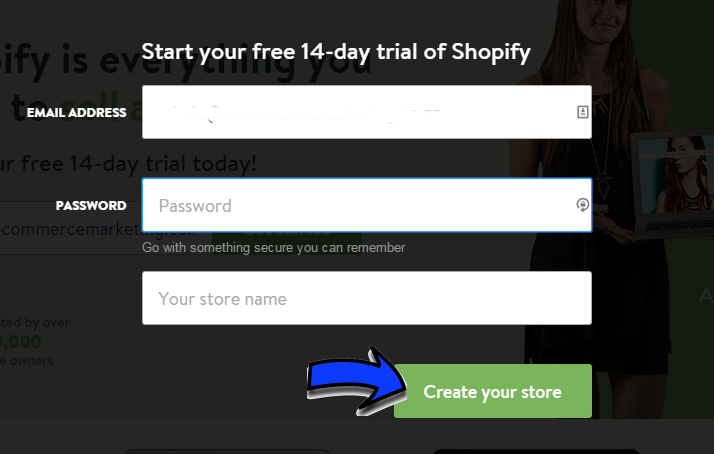 2. Pick a theme – I recommend you get started with a free one until you wrap your head around shopify. You can always add a paid one later in just a few clicks. The aim here is to get you up and running fast.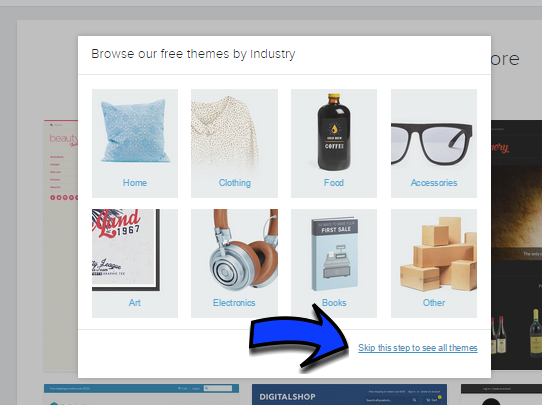 You want to click on the theme you like the look off. This will bring up a pop-up that lets you try the theme on (like changing an outfit) or publish it if you decide it is the one for you. (a lot easier than paying a designer).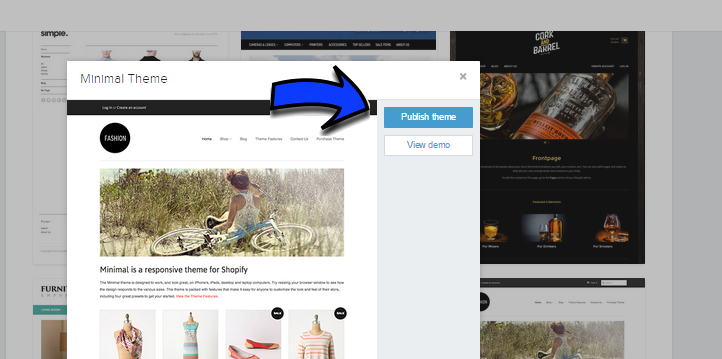 This will take you to a screen where you can add all of your customization (like logos, colours, fonts and homepage graphics)  using the CUSTOMIZE THEME button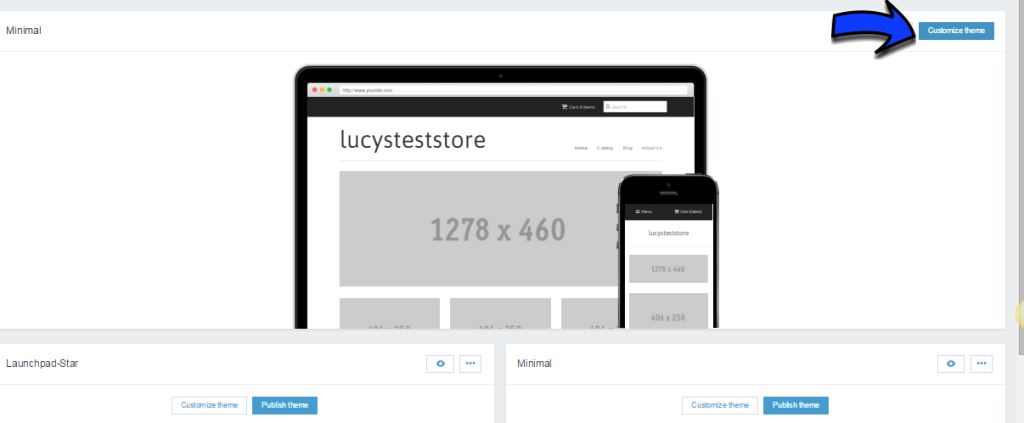 Scroll through the right hand size to add your logo, sliders, decide which product pages to feature and basically create the look and feel of your website.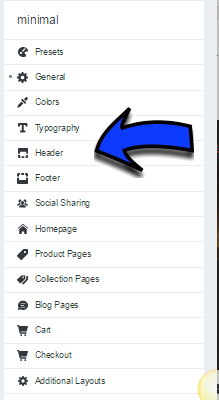 3. Add your first product

Fill in all of your products details
Title – Give it a name
Description – Tell customer about it
Add Images
Put in a price
Product Type
Brand or Vendor
Collection
Tags (make it show up when people type that word in the search box)
Code numbers
Weights for shipping
Stock Figures
Colour or size variations
Price variations
Add SEO Meta Tags
4. Choose a payment plan.  At the bottom of the screen, you will see a black bar asking you to move onto step two. Press the green button to SELECT A PLAN

Choose a plan to get started (we recommend BASIC or the STARTER Plan – you can always upgrade later.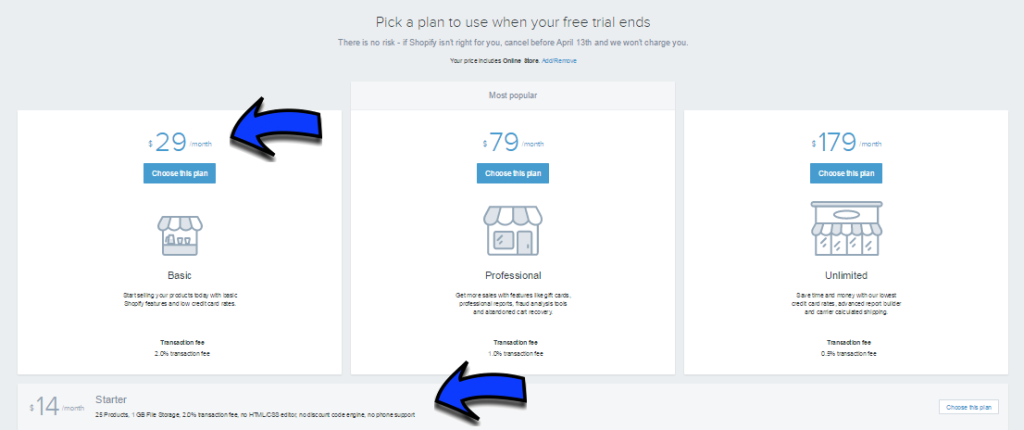 Fill in your payment details (You can cancel in 14 days if you decide it is not for you)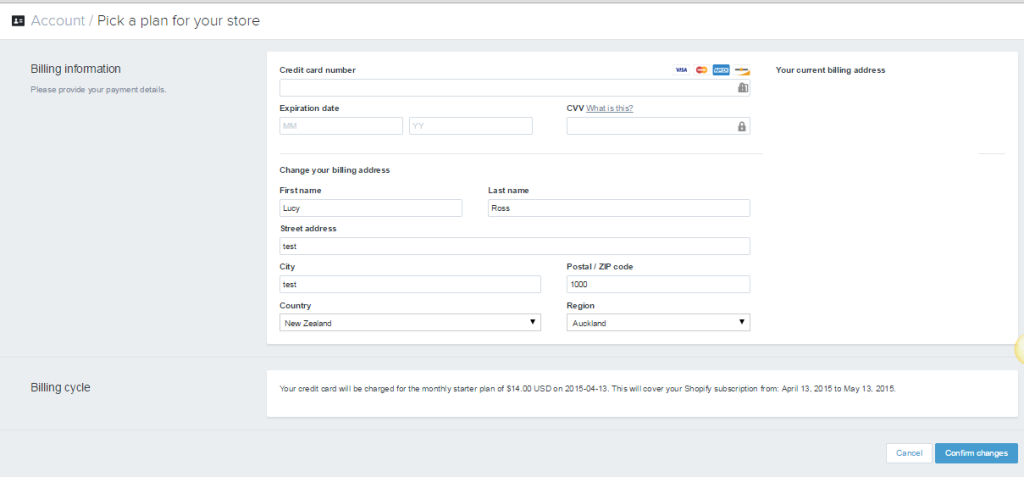 5. Set up your domain by clicking on the ADD A DOMAIN button

You can either import a domain name you already own or register one. If you are registering a new one you will need to put your payment details in again to pay for it and press CONFIRM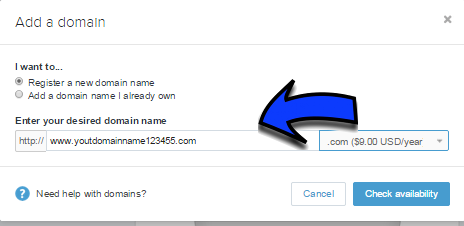 Congratulations you have a brand new eCommerce website.  Now you are ready to get started adding collection pages, products and customer service pages.
TIP: I suggest you start with a blank piece of paper and scribble out every possible collection (product type or category) you might need to add a product to. This could save you HOURS of time later, if you have to login to each product and tick an extra box.
What did you think of this tutorial?
Do you have questions? Please ask them below. Do you know someone who is thinking about building an eCommerce store? Feel free to share this tutorial with them – we would love to help as many aspiring eCommerce business owners as we can. And who knows maybe we can work together some day.